BeOnlineToday

has been in business offering hosting and domain name registrations since 1997. Our servers and data center staff are located in Houston and San Antonio Texas.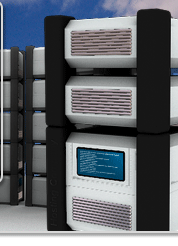 BeOnlineToday has a very simple business philosophy:

Always provide our customers the best possible service.

Always treat our customers with the utmost respect.

Offer the best prices we possibly can.

Continually strive to offer more features.

Maintain industry trained professional staff.

Proactively monitor and maintain our environment.

Remember our customers have a choice.
Make your choice, BeOnlineToday!
BeOnlineToday will always strive to provide the best possible professional service, and the most features available. We feel this provides our customers the best value for their dollar. Give us a try, we think you'll be happy you did.
We offer 1 hosting package with options to configure your site to your exact needs. We also offer Domain Name Registrations featuring registration of up to 10 years at a time. On occasion we are able to offer special pricing on registrations as any price break we are offered is passed along to our customers. You maintain control of your domain name and your hosting with our control panel, available custom settings, pre-installed software, available scripts and software.... there are no limits. Sign-Up Today, BeOnlineToday!

The BeOnlineToday Staff